Chad's Lego Roundup

This is an unofficial Lego site. To see the real thing, follow this link to the official Lego web page.

Site last updated May 28, 1999

In 1996, Lego introduced the Wild West theme. The first year's lineup included several great sets, including 6761 Bandits Secret Hideout, 6765 Gold City Junction, and the flagship set: 6769 Fort Legoredo. The 1997 lineup saw the introduction of Native American sets. Since 1997, no new Wild West sets have been released.

Fans of Wild West Lego (such as myself) were very disappointed to see such a great idea abandoned after only two years and fifteen sets. There was a lot of potential for more great Lego sets, potential that has so far gone to waste.

But rather than hold my breath waiting for a new line of Wild West sets, I have tried my hand at some original creations. These two are hopefully the first of many, and will one day grow into a full fledged Wild West Lego town.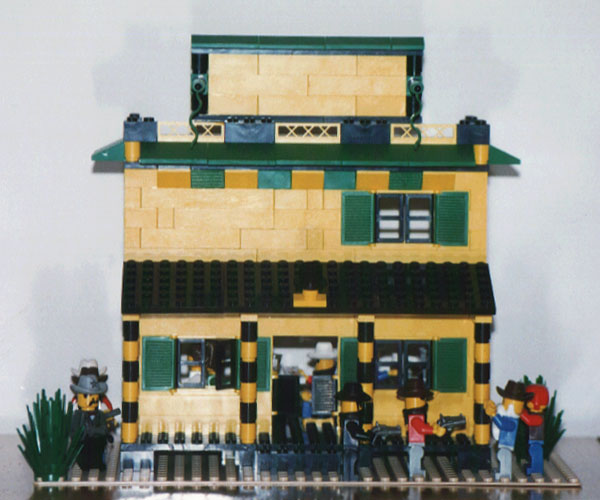 The saloon is usually the rowdiest place in any frontier town, and the Top Hat is certainly no exception. Here we see one of the local prospectors being held up by some outlaws, but the Sheriff and his men are on their way. Just above the doorway (on top of the yellow bricks on the roof over the porch) is the top hat which gives this establishment its name.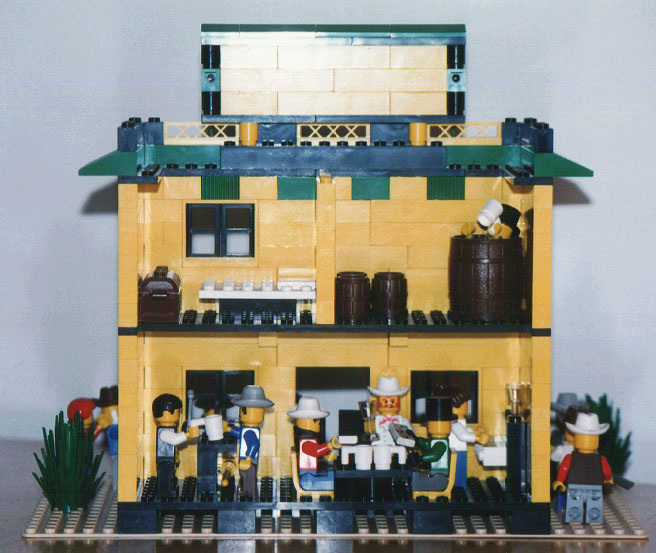 The Top Hat stays pretty busy both day and night, and the scene shown here is typical.

Patriot Hotel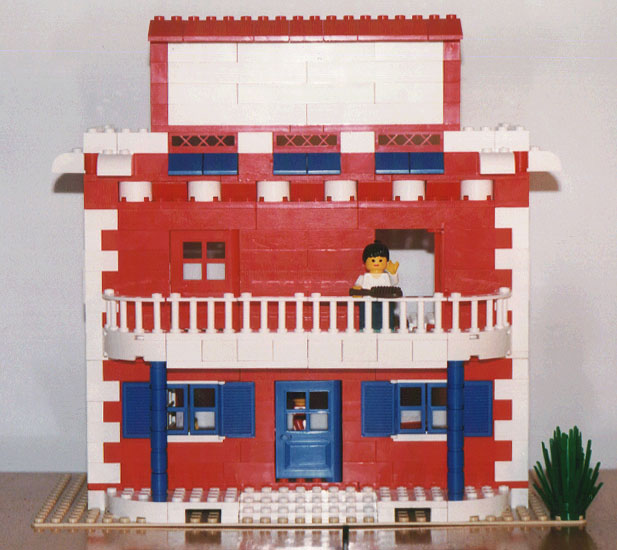 Built in 1876, this establishment was originally known as the Centennial Hotel. It became the Patriot a few years later, as the event it was originally named after faded into history. The Patriot Hotel boasts the finest (and only) accomodations in town.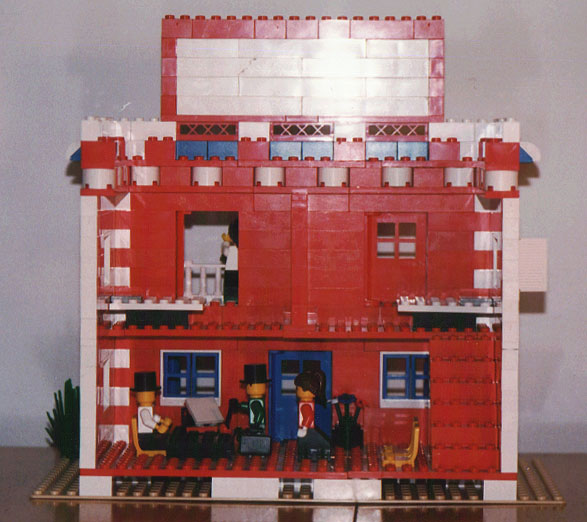 The Patriot's spacious lobby is always a welcome sight for weary travelers.

Wild West Lego Links

Eric Brok's website has some shots of a storefront display assembled by the Lego Group.

Allan J. Smith has some photos of his own Western Town.

Erik Wilson came up with his own Wild West minifigures before the offical theme was introduced.

Check out this Wild West layout from the Pacific Northwest Lego Train Club.

Download the Wild West Lego screensaver!

Other Wild West Links

Here's a good place for some cowpokin' fun.

Check out How the West was Wierd - Douglas Hoff's alternate history of the American West starting in 1836.


I'd love to hear what you think of my site, so please drop me a line!

Happy Trails!